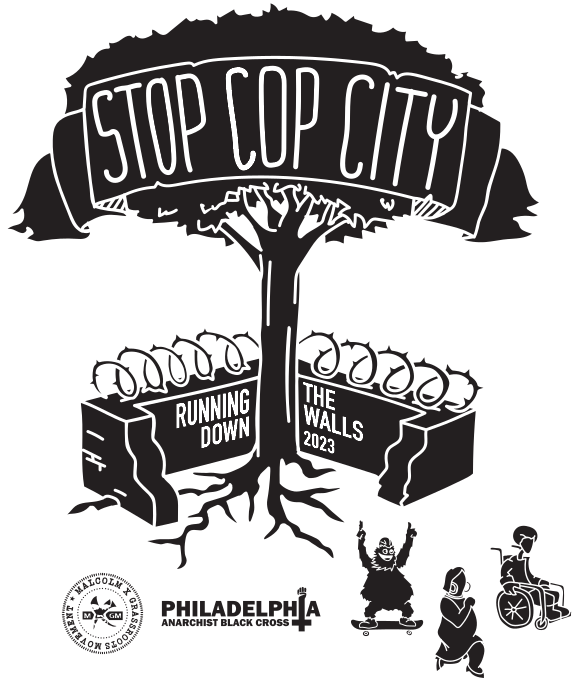 Sunday, September 17
11am sharp (Yoga warm-up at 10am)
FDR Park (or remote)
Register online by September 3
Philadelphia Anarchist Black Cross and MXGM Philly invite you to our sixth annual Running Down The Walls (RDTW)! Join us for another revolutionary 5K run/walk/roll and day of solidarity amplifying the voices of our comrades behind bars, lifting them up in their struggles, and maintaining material support. We will ship official shirts nationwide to people who register to participate remotely, pay online and leave their shipping address in the comment box! If you're joining us in person and would like to participate in light yoga and warm-up stretches before, please arrive by 10am and bring a mat if you can.
Running is not required! You can also walk, roll, or cheer. 5K is two loops around the park and at a walking pace will take about 45-60 minutes. Light refreshments and socializing will take place in the park afterward.
This year's event will benefit the ABCF Warchest and Weelaunee forest defenders facing repression from the ongoing efforts to #StopCopCity. Join us as we once again raise energy and funds for the freedom of political prisoners and the struggles they are caged for.
Cop City Will Never Be Built!

Vive vive Tortuguita!

#StopCopCity #DefendWeelaunee #JusticeForTort
If you cannot make it to the event or would like to make an additional contribution, please sponsor a participant either outside prison, inside prison, or one of each. Contact us for more information on sponsoring!
Proceeds will be split between the ABCF Warchest Program and legal aid to support arrestees from the movement to Stop Cop City. This program sends monthly stipends to political prisoners and prisoners of war who have insufficient, little, or no financial support. Since inception, the program has gathered almost $235,000, and this year's event is sure to bump that over $250,000! Due to the abominable conditions that political prisoners and freedom fighters are subjected to, and the prevalence of health issues from medical neglect, they need our support now more than ever. Join us as we celebrate our successes this last year and build momentum for the struggles ahead! We will both celebrate Dr. Mutulu Shakur's release from prison since our last event and recommit ourselves to the struggles he dedicated his life to <3.