4 cards with envelopes to benefit the Children's Art Project
Purchase at https://burningbooks.com/products/oso-blanco-greeting-cards
Cards are 5″x7″ and blank inside.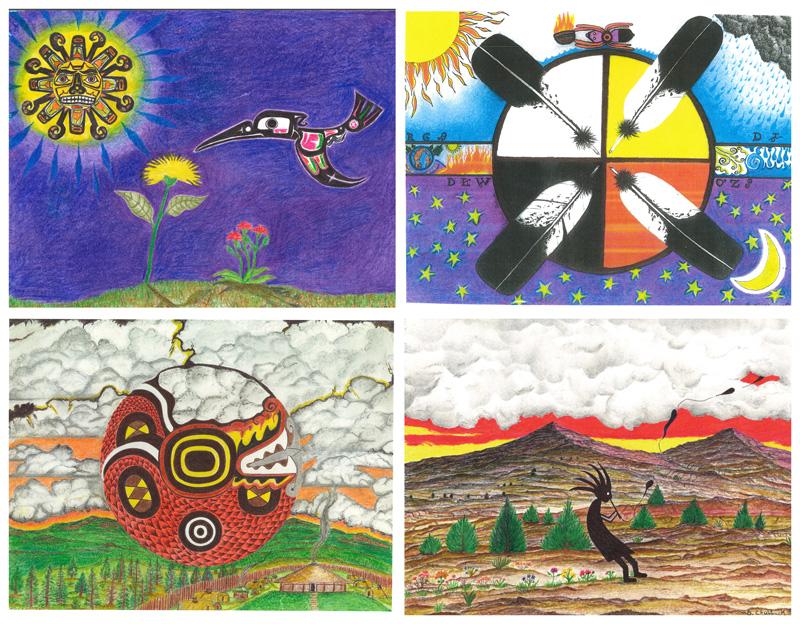 Children's Art Project (CAP) was first conceived by Indigenous political prisoner Oso Blanco several years ago.
Imprisoned by the US government for expropriating from banks to fund the Zapatista Army of National Liberation (EZLN), Oso Blanco has been using art to continue his mission. These first four designs were all painted by Oso Blanco after he had been captured in 1999. Proceeds from the sale of these greeting cards will benefit children in the autonomous Zapatista zone of Chiapas, Mexico, and on reservations here on Turtle Island.
Learn more at schoolsforchiapas.org & freeosoblanco.blogspot.com
Note from Oso Blanco:
"I did all this art under extreme duress. For years I was trying to make this happen, I was living in a literal hell on Earth where I did these pieces (SMU Lewisberg). Sometimes I couldn't get paper, other times no pencils. Every day was violence, every day was conflict with staff and prisoners. Sometimes I had crazy cellies. I was living in an absolute horror. Often times we got pepper sprayed, we got shook down. My pieces got ripped or damaged or stolen by staff. I would have to struggle, REAL struggle, that most people on the streets couldn't survive, let alone imagine. But I never gave up!
I continue to believe in Children's Art Project (CAP). This art was done by hand, not by some computer. The toil and the suffering and the high cost of sending out my art via certified Mail is seriously no joke. I'm not sitting at some resort in Washington state, relaxing, doing this art with all the best art supplies and resources. I'm literally doing this with extreme difficulty and the bare minimum. I think people must respect the fact that they could probably not even survive in the environments where I completed this art.
So, please, honor the Children's Art Project, so that we may help the children in Chiapas, where I've risked my life many times in Mexico sending old army surplus, bullets, medicine, horseshoes, vitamins for pregnant women (folic acid), veterinary medicine for horses, you name it. I didn't just fall off the potato wagon and become a Political Prisoner, I earned this through my great sacrifice, through life and death, through turmoil. Being shot by the police and the FBI and having police dogs sicced on me during this case, ripping me apart, all for the humor of the FBI and Albuquerque police.
Love,
Oso Blanco
Zapatista Supply Warrior & Native Anarchist"
You can print a trifold about Oso Blanco here, and write him at this address:
Byron Chubbuck, #07909-051
USP Victorville
PO Box 3900
Adelanto, CA 92301