Since 1999, prisoners and supporters throughout North America have participated in the annual event known as Running Down the Walls (RDTW) often running or walking simultaneously in many cities and prisons at once. This is a 5k non-competitive run/jog/walk/roll in order to raise awareness and funds for the numerous political prisoners currently held in North American prisons. The 2021 event is scheduled for Sunday, September 12th.
Every year, prisoners and supporters of political prisoners organize solidarity events with Running Down the Walls. In previous years, we've had runs in Albuquerque (NM), Arcata (CA), Ashland (OR), Bellefonte (PA), Boston (MA), Buffalo (NY), Chico (CA), Denver (CO), Elmore (AL), Inez (KY), Los Angeles (CA), Lowell (MA), Marion (IL), Minneapolis (MN) New York (NY), USP Navosta (TX), Pelican Bay (CA), Phoenix (AZ), Tucson (AZ), Seattle (WA), and Toronto, Ontario.
This annual event is also one of the primary fundraisers for the ABCF Warchest Program – a fund designed to assist political prisoners who normally received little or no financial support with monthly checks. Other funds raised should be used to support local groups of your choosing, whether that is your own organization or another group you'd like to support. The choice is yours. Warchest video.
List of Running Down the Walls events for 2021 (alphabetically, by city)

Austin Running Down the Walls
5K run/walk/roll
September 11, 2021, 6pm
Southern Walnut Creek Trail- Govalle Neighborhood Park, 5200 Bolm Road,
Austin, TX 78721
Register at https://www.cognitoforms.com/RDTW1/AustinRDTW2021Registration
Sliding scale fee of $20-100 ($40 strongly recommended). Each paid and registered participant will get a t-shirt (design available here).
Pay online via PayPal to [email protected] or you can bring cash/check/money order to the event.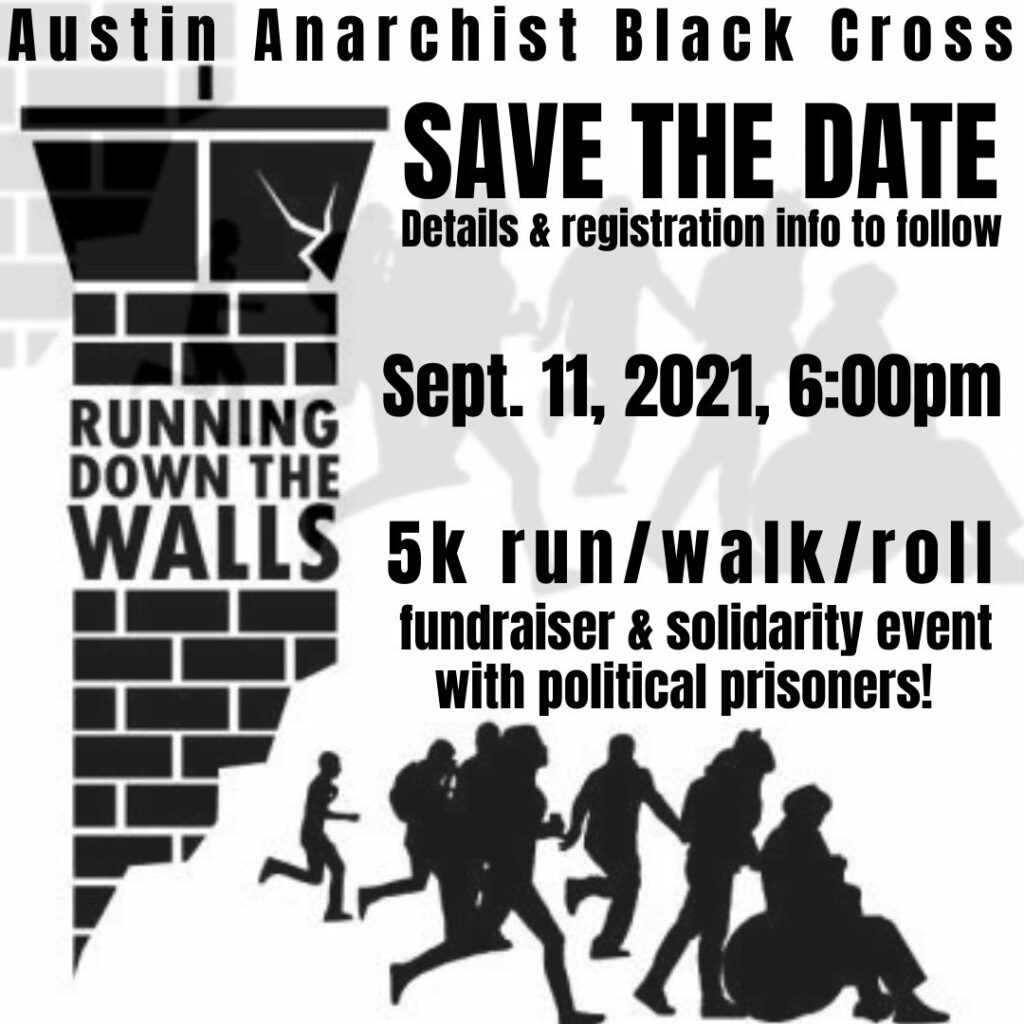 Chicago Running Down the Walls
We will run/walk/caravan around Cook County Jail in solidarity with political prisoners and the movement to abolish prisons.
Gather at 2pm at Cook County Jail Complex
5k starts at 3pm
That evening we are having a show at the Orphanage. 643 W. 31st Street in Bridgeport. The show starts at 8pm.
Los Angeles Running Down the Walls

LA ABCF will be hosting a virtual event on September 12th from 11am – 1pm PST. We will be hosting a Twitter Storm (as well as Instagram, and facebook) . Please join us and participate in both the exercising portion and in tweeting out support for political prisoners. Feel free to make noise all day for those imprisoned.

Donate at https://fundrazr.com/rdtw2021laabcf
Facebook event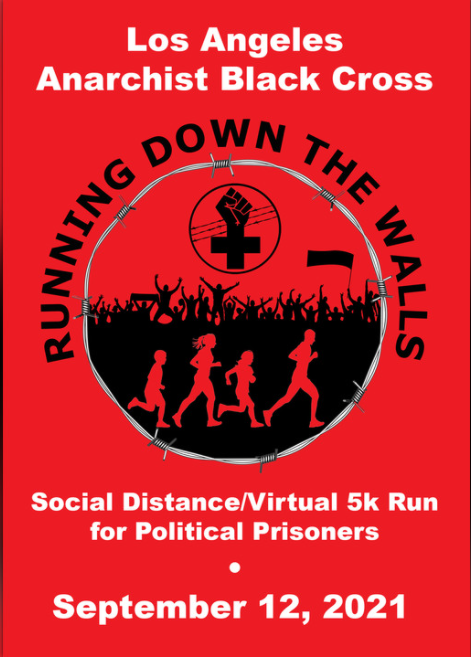 Lowell/Lawrence Running Down the Walls
5K run/walk/roll
September 12, 2021
Boarding House Park, 40 French Street, Lowell.
Follow Pandemic Safety.
11am check in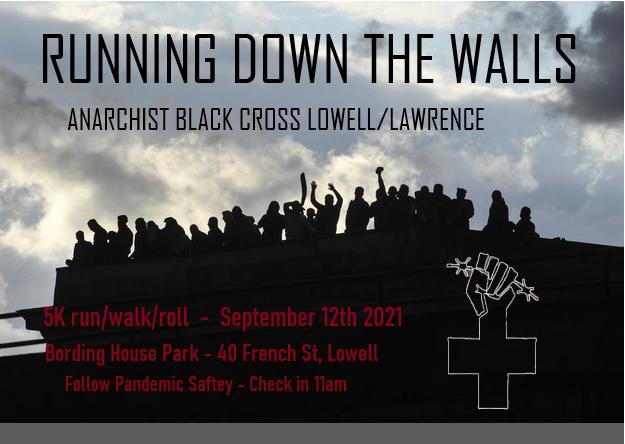 NYC Running Down the Walls
5k Run/Walk/Jog/Bike/Hang
WHEN: 2:00-7:00pm, Sunday, September 12th, 2021
WHERE: Prospect Park– Lincoln Road/East Lake Drive, east of the Terrace Bridge. Map.
COST: $10 registration (if COVID permits, will include food/drink afterwards. TBD)
You can donate online by going to paypal.me/nycabc or venmo: @nycabc
After making the difficult decision to not hold last year's event in person, we are very much looking forward to gathering as a community for the first time in a long time. Please stay tuned to our website, sign up for our newsletter, and follow us on twitter (@nycabc) for updates.
This year we hope to expand the amount of runs in prisons and other cities, as well as increase the amount of funds raised for community projects. NYC ABC's goal with this year's run is $4,000.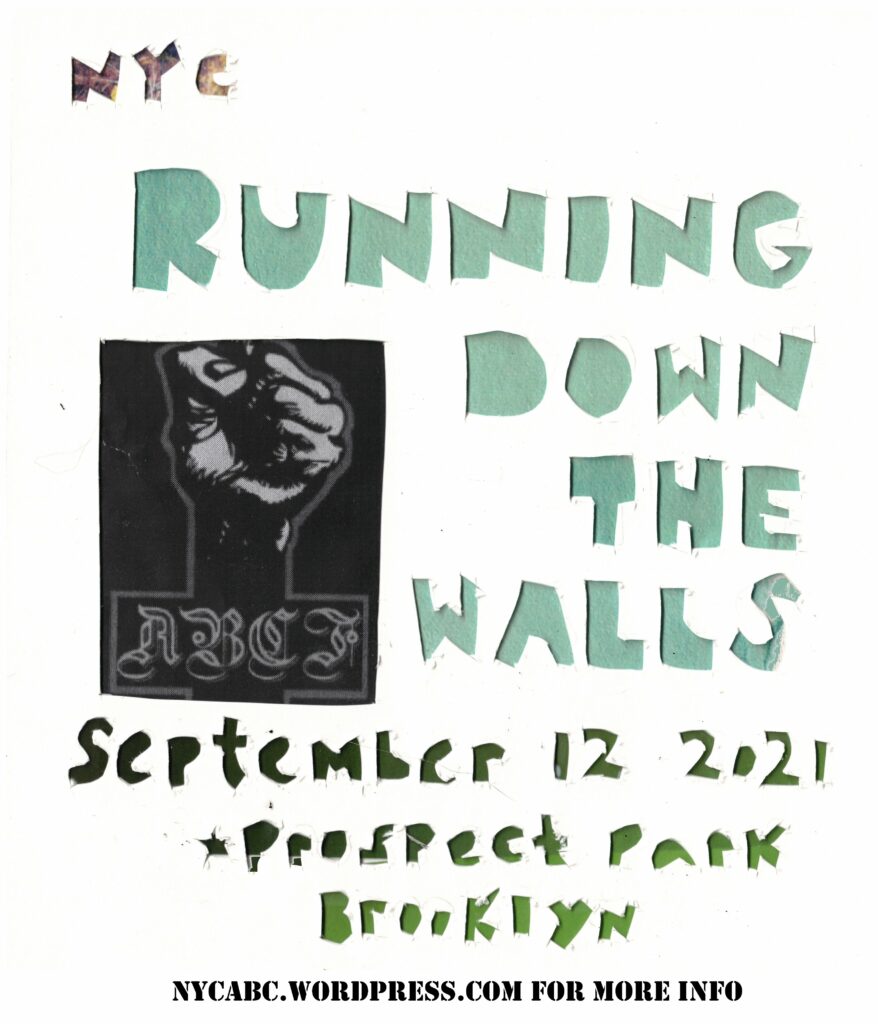 Philly Running Down the Walls
Sunday, September 12, 2021
11 am sharp (Yoga warm-up at 10am)
FDR Park
Check out promo video!
Philadelphia Anarchist Black Cross invites you to our fourth annual Running Down The Walls (RDTW)! Join us for another revolutionary 5K run/walk/roll and day of solidarity amplifying the voices of our comrades behind bars, lifting them up in their struggles, and maintaining material support. If you would like to participate in light yoga and warm-up stretches before, please arrive by 10am and bring a mat if you can.
Running is not required! You can also walk or roll. 5K is two loops around the park and at a walking pace will take about 45-60 minutes. Light refreshments and socializing will take place in the park afterward.
This year's event is in honor of Mumia Abu-Jamal. Join us as we once again raise energy and funds for the freedom struggle of another Philly comrade and long-term Black liberation prisoner. This year marks the 40th year that Mumia has been behind bars as a voice for the voiceless. Due to multiple health issues from medical neglect, he needs our support now more than ever.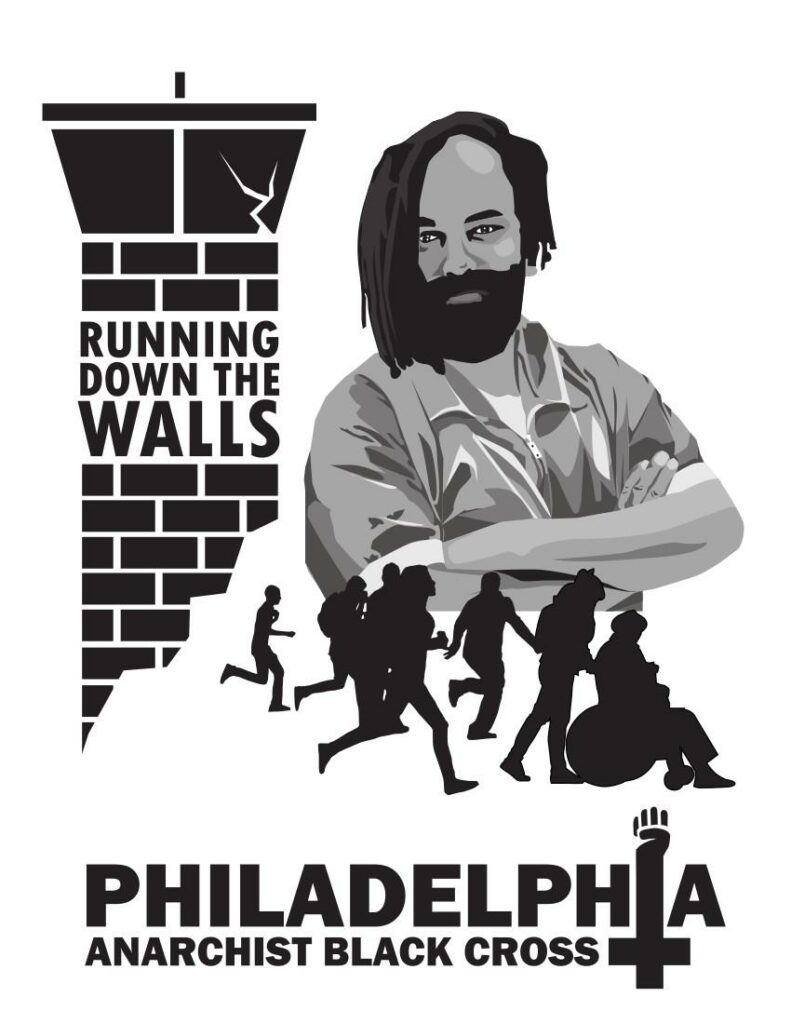 Pittsburgh Running Down the Walls
Run/Walk/Bike/Skate
Sunday, September 12th
1pm
Friendship Park (Bloomfield)
$5-20+ Sliding scale donation