The Nahuatzen 3 were sentenced to 7 years in prison for "sabotage," ostensibly for their work as Purépecha rights defenders through Concejo Ciudadano Indígena de Nahuatzen. The Indigenous Citizens' Council is a direct democracy-style community government in the state of Michoacán, which began a process of gaining autonomous status for the indigenous community in 2015, and has worked to defend the rights of the indigenous people of Nahuatzen. José Antonio Arreola and José Luis Jiménez are part of the Indigenous Citizens' Council, which, in 2017 was recognized as an indigenous authority by the Electoral Tribunal of the State of Michoacán and the Federal Government of Mexico. José Gerardo Talavera was supporting the council by renting out a space for it to carry out its functions.
The three were arrested when they were evicted from the offices of the National Development Sistem (DIF), accused of stealing a vehicle and other objects that were in the offices a few days before. However, it is believed that the charges against them are an act of retaliation for their work and that of the Indigenous Citizens' Council in the fight for self-determination for the Nahuatzén community. Due to the dubious circumstances around their case, they were granted a review by the Supreme Court that is supposed to be completed this month!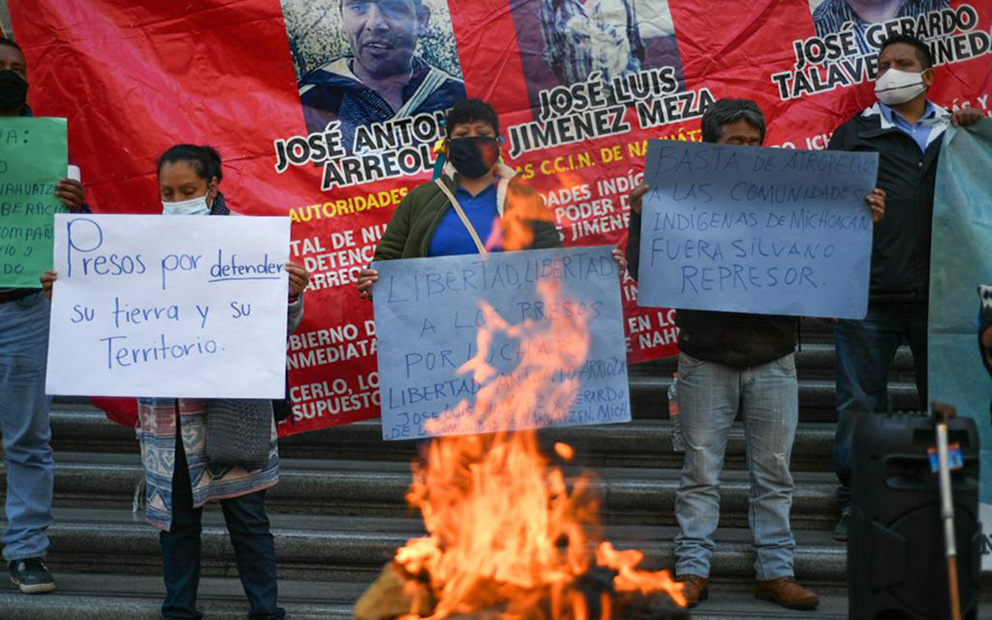 There are two ways you can take action at this critical juncture to support the release of the Nahuatzen 3:

1) Send a message to Jorge Mario Pardo Rebolledo, the Supreme Court justice that is supposed to be issuing a ruling on their case this month [UPDATE: he is supposed to issue a ruling by January 9th so keep emailed up until then]. He can be emailed at [email protected] or through the contact form on the Mexican Supreme Court website.
Example email:
Suprema Corte de Justicia de La Nación
Estimado Ministro Pardo Rebolledo:
Me dirijo a usted para expresar mi apoyo a la revisión del caso de José Antonio Arreola, José Luis Jiménez y José Gerardo Talavera. Considero que este caso ejemplifica graves violaciones a los derechos humanos durante el proceso penal, que me gustaría que se rectificaran con su liberación. Ellos son líderes comunitarios de Nahuatzen condenados por delitos falsos y yo estoy abogando para que la Corte anule el caso.
Gracias por su atención a este asunto.
Atte.
[Nombre]
English translation:

Supreme Court of Mexico
attn: Justice Pardo Rebolledo

I am writing to express support for the review of the case of José Antonio Arreola, José Luis Jiménez, and José Gerardo Talavera. I believe that this case exemplifies serious human rights violations during the criminal process, that I would like to be rectified with their release. They are community leaders in Nahuatzen convicted on false charges and I am advocating for the Court to overturn the case.

Thank you for your attention to this matter,
[Your Name]

2) Donate to the community of Nahuatzen as they continue to solidify their autonomous infrastructure. A recent interview of one of the Nahuatzen 3 describes the public works the community has been able to accomplish in a short time since becoming autonomous including an underground sewer system and an expanded electrical grid. If you would like to donate to support the Nahuatzen 3 and the ongoing work in the community, email phillyabc[at]riseup.net for information on how to transfer funds.
---