As of last night, Eric is still at Grady County Jail in Oklahoma City and we want to keep him there and stop him from being sent to a dangerous situation at USP Lee.
We recounted last week that Eric has already been threatened by white supremacists on the way to USP Lee last time and was walked into an empty chow hall to fight a nazi enforcer at USP McCreary last year. The Bureau of Prisons knows what they are doing by sending him to USP Lee. We do not accept indefinite placement in segregation as an alternative. We demand Eric be transferred to a low or medium security prison and be allowed to finish his time and be released in December 2023.
To that end, we are asking for your solidarity for another week of calling, faxing and emailing various Senators and BOP staff. We added Missouri Senators Blunt and Hawley on Friday (that is where Eric was born, raised and lived until his 2014 arrest). Today we are asking for you to contact Colorado Senators Bennet & Senator Hickenlooper (this is where Eric's family lives and where he will be released). Of course, please continue to contact the Bureau of Prisons contacts at DSCC, Mid Atlantic Region and the new one we added: USP Lee.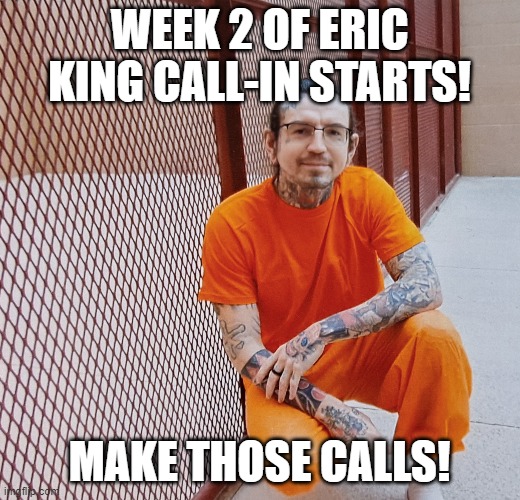 Templates and all contacts live at https://supportericking.org/2022/04/03/help-protect-erics-life/
A helpful guide for writing these letters and making calls
Eric is in his own words:
ICYMI, Eric on It's Going Down's "This is America" podcast
Senators to Contact
Colorado:
Michael Bennet
https://www.bennet.senate.gov/public/index.cfm/write-to-michael
Cesar E. Chavez Memorial Building
1244 Speer Boulevard
Denver, CO 80204
Toll Free: 866-455-9866
Phone: 303-455-7600
Fax: 720-904-7151
@SenatorBennet
John Hickenlooper
https://www.hickenlooper.senate.gov/email-john/
Byron Rogers Federal Building|
1961 Stout Street, Suite 12-300
303-244-1628
https://twitter.com/Hickenlooper

Missouri:
Senator Roy Blunt
https://www.blunt.senate.gov/contact/contact-roy
Phone: (202) 224-5721
Twitter: @RoyBlunt
Senator Josh Hawley
https://www.hawley.senate.gov/contact-senator-hawley
Office: 202-224-6154
Fax: 202-228-0526
Fax: 816-472-6812
Fax: 417-869-4411
Fax: 314-436-8534
Twitter: @HawleyMO or @SenHawleyPress
Virginia
Tim Kaine
https://www.kaine.senate.gov/contact/share-your-opinion
Twitter: @TimKaine
231 Russell Senate Office Building
Washington, DC 20510
PHONE: (202) 224-4024
Mark. R Warner
Email: https://www.warner.senate.gov/public/index.cfm?p=ContactPage
Twitter: @MarkWarner
IG: https://www.instagram.com/senatorwarner/
703 Hart Senate Office Building
Washington, DC 20510
Phone: 202-224-2023
Bureau of Prisons contacts:
USP Lee
Lee County Industrial Park
Hickory Flats Road
Pennington Gap, VA 24277
Email: [email protected]
Phone: 276-546-0150
Fax: 276-546-9115
Mid-Atlantic BOP Regional Office
302 Sentinel Dr,
Annapolis Junction, MD 20701
Email: [email protected]
Phone: 301-317-3100
Fax: 301-317-3119
DSCC Office
U.S. Armed Forces Reserve Complex
346 Marine Forces Dr.
Grand Prairie, TX 75051
Email: GRA-DSC/[email protected]
Phone: 972-352-4400
Fax: 972-352-4395
BOP National Office
320 First Street, NW
Washington, DC 20534
Email: [email protected]
Phone: 202-307-3198
How are your calls going? What are you hearing? Email us at [email protected]
FREE ERIC KING!!!!!!!!!!!!!!!!!!!!!!!!