Many of the Kings Bay Plowshares were sentenced recently. Here are some updates. Be sure to check out their website as the activists will be reporting to prison soon.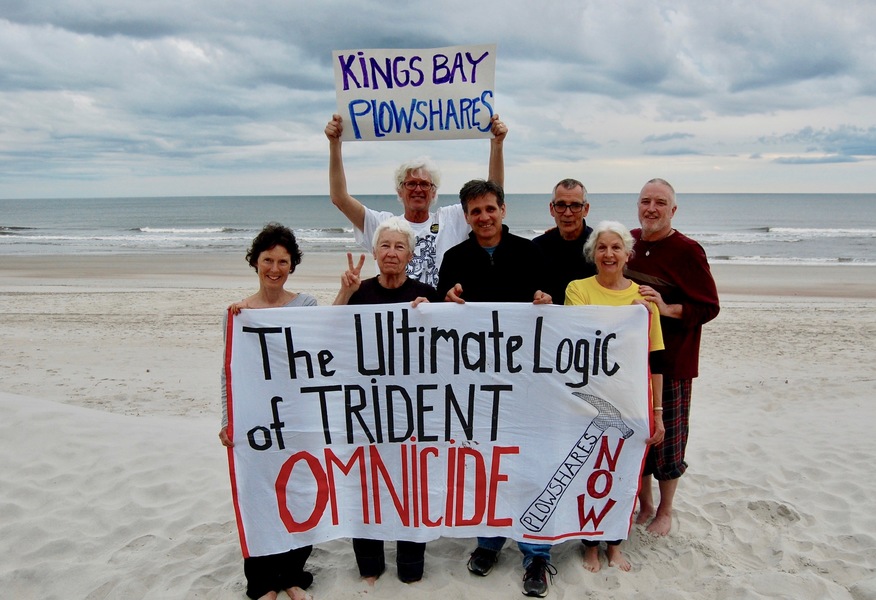 Carmen Trotta was sentenced to 14 months in the morning session. This was a downward departure based on the judge granting his objection that the seriousness of his criminal history was overstated by the probation report.
Clare Grady was sentenced in the afternoon in a three hour session. She was sentenced by Judge Wood to one year and one day which is well below the guidelines.  Both defendants were also sentenced to three years supervised probation and ordered to "jointly and singly" pay restitution of $33,501. Carmen requested that he be able to self report to prison in 30 days and Judge Wood agreed to recommend that. Clare requested 90 days.
Martha Hennessey received 10 months in federal prison, restitution, and three year's supervised probation.  
Fr. Steve Kelly was sentenced in Brunswick on Oct. 15 to 33 months incarceration, three years of supervised release and restitution ($33, 501 shared jointly with other defendants). He has served 30 months in pretrial confinement in Georgia jails so should have completed this sentence with the addition of accumulated good time. Steve still has to answer for a probation violation from a previous arrest so may be taken to Tacoma in Washington State to face the judge there. 

Patrick O'Neill was sentenced on Oct 16 to 14 months in prison and the same probation and restitution. He will have to self report to prison when ordered by the Bureau of Prisons within the next 90 days. 

Liz McAlister was sentenced to time served (17 months) in June.