With the weather cooperating, we are back to in-person events! Our next letter-writing will be at Clark Park on Tuesday, May 31st at 6:30 pm. Snacks and letter-writing supplies will be provided.
Jessica Reznicek is a land and water defender who has worked with and lived in the Des Moines Catholic Worker Community for the last 10 years. In 2016, Jessica took a stand against the construction of the Dakota Access Pipeline in Iowa. Jessica attended public comment hearings, gathered signatures for valid requests for Environmental Impact Statements, and participated in civil disobedience, hunger strikes, marches and rallies, boycotts and encampments.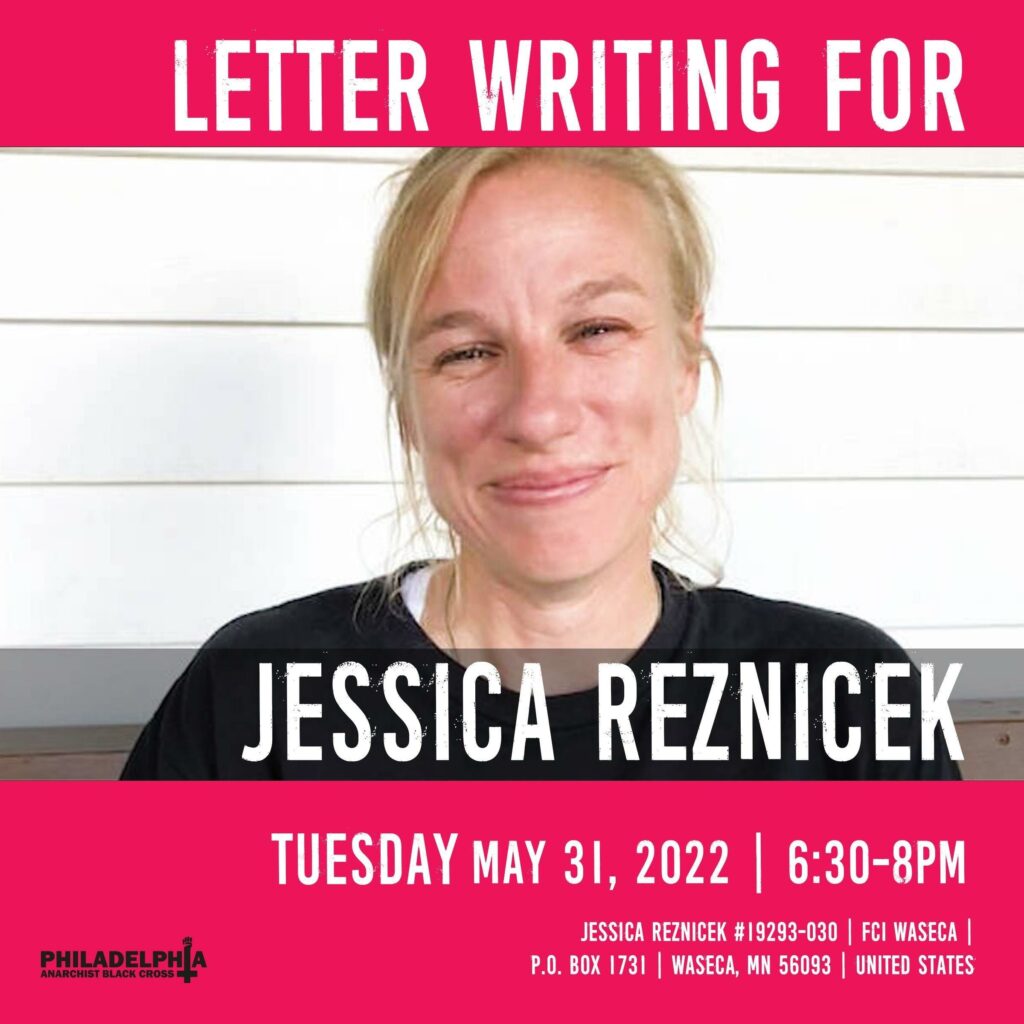 When the process failed, she concluded the system was broken, and it was up to individuals to take action and protect the water. She and a fellow Catholic Worker then spent the next couple of months disabling construction machinery along the pipeline route. No one was injured by their actions, and the land was protected from the flow of oil for an additional six months. In 2021, Jessica pleaded guilty to one count of conspiracy to damage an energy facility, was designated a domestic terrorist by the court and then sentenced to 8 years in prison, followed by 3 years supervised probation, and restitution of $3,198,512.70 paid to Energy Transfer LLC.
On May 13th, her legal team presented oral arguments to appeal her sentence and the use of the terrorism enhancement. The verdict may take a few weeks, but if successful the enhancement would be removed she would be re-sentenced. Jessica has a deep love for nature, camping, swimming, hiking, theology, music, gardening, laughter and eco-sustainability, as well as a commitment to self-discovery and intentional community living. Join us while we send her notes of encouragement in this time of uncertainty while waiting on the results of the appeal.
If you are unable to make it, please drop Jessica a line at:
Jessica Reznicek #19293-030
FCI Waseca
P.O. Box 1731
Waseca, MN 56093