In court filings, a legal nonprofit says guards in a federal prison tortured Eric King and then attempted to cover it up.
By Ella Fassler in VICE News
In 2014, anti-fascist activist Eric King was sentenced to 10 years in prison for throwing Molotov cocktails at a politician's empty office in solidarity with the Black liberation uprisings in Ferguson, Missouri. Now, after years behind bars, King and his lawyers say that he was assaulted and tortured by prison guards—and that the Bureau of Prisons destroyed video evidence.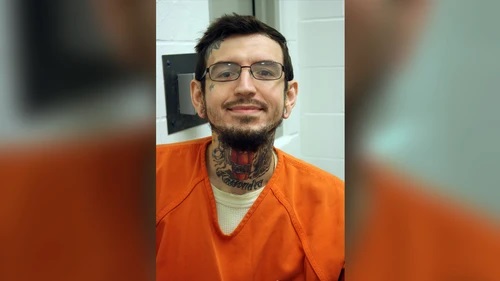 According to new motions to dismiss filed by the Civil Liberties Defense Center (CLDC), a legal nonprofit, BOP prison staff attacked King after leading him into a small, off-camera storage closet, then deleted video evidence, and may have misrepresented facts about the incident to the FBI. King's attorneys also claim officers tied him to a four-point restraint device for approximately five hours, and then proceeded to interrogate him despite his asserting his constitutional right to counsel. King admitted to defending himself against Wilcox during the interrogation.
The case raises larger questions about the extent to which surveillance footage behind bars is manipulated, destroyed, or circumvented at the expense of incarcerated defendants. "All of these surveillance devices are controlled by those who it would also potentially expose," Bianca Tylek of Worth Rises, an advocacy organization working to dismantle the prison industry, told Motherboard.
King was originally set to be released in 2023, but now faces additional charges accusing him of assaulting a federal officer, which could tack on 20 years to his initial 10-year sentence. Up until the incident, which documents say occurred on August 17, 2018, King was a yoga instructor at the prison and had managed to keep a relatively clean record. 
He was a week away from being sent to a low-security facility. He hadn't had a single shot. He had exemplary conduct. He had a good job," Lauren Regan, King's lead attorney, told Motherboard. "He was seeing his family every week. In terms of doing your time, he was in a really good place at the time that this occurred." But now, Regan said, she has never had a client where she "feared so deeply just for their very survival."
King has been held in solitary confinement for about three years, without access to snail mail or phone calls outside of communications with his immediate family and attorneys. And, according to a lawsuit filed by the CLDC on his behalf, the BOP has colluded with white supremacists by staging assaults and bunking him with members of white supremacist gangs.
The switch flipped after King sent an email to his wife wherein he made light of an unrelated assault on a prison guard. Afterwards, Lieutenant Donald Wilcox and Officer Jefferey Kammrad took him into a crowded, 8.5 by 11 foot room full of cleaning supplies—to "interview" him about the email, they claimed. After Wilcox asked Kammrad to leave the closet, according to the lawsuit, Wilcox cursed at King, threatened him, called him a terrorist, and punched him in the face twice. King claims he hit Wilcox back in self-defense, while Wilcox told the FBI King struck him first without any provocation. 
Two days after the alleged assault, King's attorney at the time submitted a request to preserve evidence of all video footage taken before and after the incident. However, an FBI memorandum recently uncovered by King's attorneys revealed that the BOP destroyed footage of King shortly after the assault because "King was being complaint [sic] at the time."
The discovery process also revealed one lieutenant and one nurse appear to have misrepresented facts to the FBI by claiming they did not interact with King while he was in four-point restraints. Their own paperwork contradicts their statements, according to evidence presented in the new filings.
While reviewing footage of King in four-point restraints, King's attorneys noticed that the video was edited. "When we started forcing the U.S. Attorney's Office to turn over [the] video, we were able to ascertain that there were cuts where the video clearly stopped and then started up," Regan said. "For instance, at one point, he has a certain type of clothing on and the next frame, they've cut that clothing off of him, and now he's in nothing but boxers. And there was no acknowledgement that the cameras were started and stopped." At least two hours of footage of King in four-point restraints is missing.   
One guard suffocated King while he was in the four-point restraint by putting his hands over King's mouth, according to King's civil suit. Then multiple guards allegedly taunted, insulted him, and threatened to have him raped by other incarcerated people, calling it "street justice" and "what he deserved." None of this was documented on camera.
The Bureau of Prisons acknowledged Motherboard's request for comment, but stated the agency does not comment on pending litigation. The Offices of the United States Attorneys and the government's attorney, Aaron Teitelbaum, did not respond to Motherboard's request by the time of publication. In court filings, the U.S. government admitted that it destroyed footage but said it did so within the bounds of its existing video retention policy and asked a judge to not move forward with an evidentiary hearing. "The unpreserved video of defendant behaving in a compliant manner between the entrance to the SHU and his holding cell was not relevant to this case, let alone exculpatory," a U.S. attorney wrote.
On Tuesday, Judge William J. Martinez ordered an evidentiary hearing in response to factual disputes surrounding King's interrogation and possible Fifth Amendment violations, delaying a trial which was originally scheduled for October 12. If King's motions to dismiss are denied, a trial is likely to be scheduled for late October or November, where a jury will be asked to weigh the evidence. But people who are already convicted of crimes face a steep disadvantage in court, Regan said. "It's so hard to convince jurors that people with felony convictions deserve to be believed," she told Motherboard, "especially when you've got a shiny badge and this Lieutenant saying that he's worked for the Bureau of Prisons for 20 years, you know, and this is just a terrorist…I mean, it's just such an uphill battle."
Since King's character is at the heart of the case, any evidence showing King to be compliant or non-combative before, during, or shortly after the incident inside of the storage closet could be considered "exculpatory evidence"—legalese for evidence that may prove a defendant's innocence.
"If Mr. King is fighting, resisting or otherwise out of control on the video, a jury might infer he was aggressive and may have instigated violence against Wilcox in the closet," Regan argued in a motion to dismiss. "[B]ut on the other hand if King is compliant and not resisting in the immediate aftermath, a jury may infer that he merely defended himself in response to an assault by staff. The video is key to establishing this question before the jury." The video could have also been used to impeach a government witness, Regan argued, since some guards claimed King was acting aggressively and resisting.
Teitelbaum argued that King's attorneys overstated the seriousness of the alleged government misconduct and contended that the conditions of confinement should be excluded during trial. The off-camera alleged assault, Teitelbaum argued, is the only relevant part of the case. "Even assuming that such video is indeed missing, defendant fails to explain how additional video of him lying on a cot in restraints without causing a disturbance (beyond the hours of video already provided) is relevant at all, let alone exculpatory," U.S. Attorneys wrote in response to defendant's motion to dismiss. "This case is not about the defendant's behavior hours after the charged assault occurred."
U.S. prisons are some of the most heavily surveilled places on Earth. But guards can often find a discreet place where no one is watching. And the public and defense attorneys often can't access existing footage that may be incriminating for a department.
For this reason, misconduct captured on surveillance cameras isn't necessarily going to benefit an incarcerated survivor of abuse, Tylek explained. "The issue is very similar to body cameras for police officers. Body cameras aren't saving people," she said. "In prisons, it's just even worse, because there's so little oversight. It's almost as if people who are incarcerated don't deserve to have their civil rights protected. COs and correctional administrators can get away with even more."
In 2020, the Massachusetts Department of Corrections immediately released footage showing several incarcerated people punching prison guards at Souza-Baranowski Correctional Center. In the weeks that followed, more than 40 people reported being assaulted by guards while locked in their cells. Some were allegedly punched, kicked, slammed into walls, starved, tased, shot with mace guns, or bitten by dogs. Meanwhile, according to an investigation by the Boston Globe's Spotlight Team, the DOC's lawyers have sought gag orders to prevent defense attorneys from sharing evidence of abuse with the public.
"That level of citizen accountability, especially when it comes to police misconduct, does not exist in the prison system. There are no cell phones that incarcerated people have, there are no cameras that they get to control," said Regan. "The BOP employees know where the cameras are and are not. So when they are committing acts of misconduct they know better than many how to get away with it."