tl:dr: Order at http://www.freebirdbooks.com/shop.html

Following June's drive (over 330 books collected!) and a year after Freebird Books initiated this campaign, we focus on worker-owned publisher AK Press, a longtime supporter of NYC Books Through Bars and a leading publisher of literature on social justice and anarchism.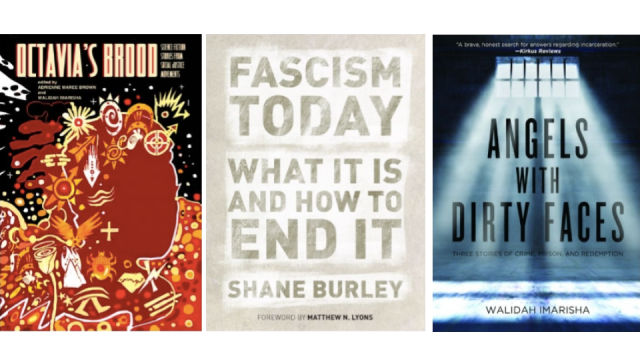 We have chosen a selection of titles that exemplify their ethos while exploring themes important for incarcerated readers. On previous drives we have featured Octavia Butler's own influential speculative fiction. In Octavia's Brood: Science Fiction Stories from Social Justice Movements, we share the fruits of those influences: 20 short works of sci-fi, fantasy, horror, and magical realism that connect visionary worlds with movements of social change. (Edited with Adrienne Maree Brown)

That anthology happens to be co-edited by the educator, writer, and spoken word artist Walidah Imarisha, the author of our second selection, Angels with Dirty Faces, a real life but poetic study of incarceration's toll.

And in Fascism Today, Shane Burley provides a practical guide to understanding and combating a troubling political trend that did not end with the last administration.

About the Freebird book drive for NYC Books Through Bars
While NYC Books Through Bars operating out of Freebird's basement is currently limiting in-person volunteering and drop offs due to COVID-19, book requests continue to pour in from prisons around the country: nearly 300 per week. In response to the challenges of accepting those donations during the pandemic, we have started a monthly program in which specific, in-demand titles can be purchased through Freebird at a discount.

Order the July bundle!