WHAT: Political Prisoner Letter-Writing
WHEN: 7pm, Tuesday, December 15th, 2020
WHERE: YOUR HOME
COST: Free
It is the last month of what some may say has been the longest year of their life. COVID 19 continues to rage on both sides of the walls, partially due to the ever insidious 'individual american exceptionalism.' All we can do is continue to support folx who are forced to weather the pandemic under the rule of the carceral state while we try to stay healthy and safe out here.
Dedicated followers of our bi-weekly letter writing night may remember that we encouraged folx to write to Eric King in May of this year. Shortly after that week, Eric was placed on a mail restriction and could only correspond with his wife and mother. As of the end of November it was lifted, although it is unclear for how long. Not only that, but Eric tested positive for COVID 19 on November 27th. Because of that we are encouraging people to flood the prison with mail for Eric! Do not talk about his case or the mail ban in your letter.

Eric King was indicted in May 2019 by a grand jury in the District Court of Colorado for a new federal felony charge of Assaulting a Federal Official. This charge is based on what the government says happened during the interview in the Florence storage room with a Lieutenant. Eric now faces up to 20 additional years in federal prison and is fighting this charge while still in the custody of his accusers. Eric is pre-trial, do not mention his current charges.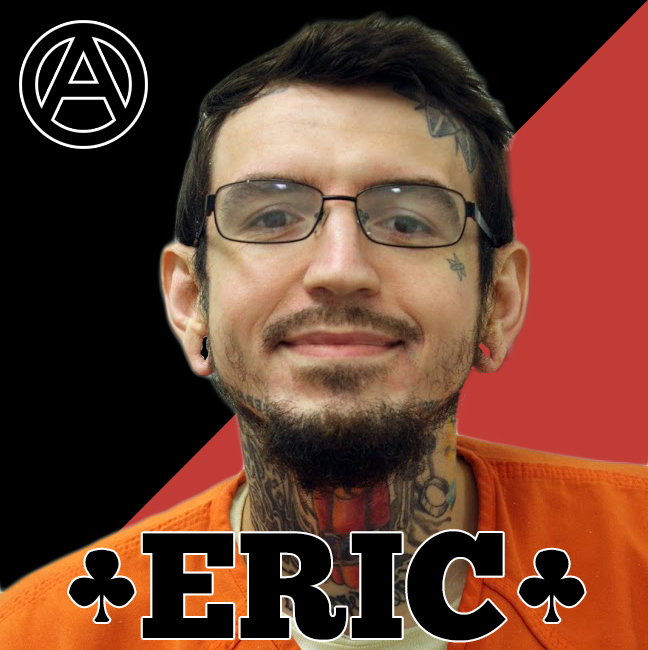 Please take the time to write a letter to Eric King (and share a photo of your completed envelopes with us online):

Eric King #27090-045
FCI Englewood
9595 West Quincy Avenue
Littleton, CO 80123