The Blue Agave Revolution: Poetry of The Blind Rebel is a collaboration among radical author, indigenous freedom-fighter, and political prisoner Oso Blanco (aka Byron Shane Chubbuck, aka Robin The Hood) and Michael Novick–a Brooklyn-born veteran of SDS/Prairie Fire Organizing Committee, the John Brown Anti-Klan Committee, publisher of Turning The Tide journal, and all-around tireless anti-fascist activist–along with numerous contributors who have supported, and continue to support, Oso Blanco over the years spanning his imprisonment.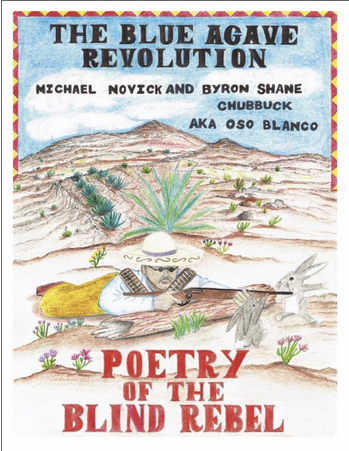 A joint work of poetry and speculative/magical realist fiction, The Blue Agave Revolution: Poetry of the Blind Rebel is also profusely illustrated with historical and contemporary photos and artwork by Oso Blanco and others. Its 300 pages contain tales of the historical Mexican Revolution of 1910-20, reports and analysis of the contemporary struggle for Indigenous sovereignty, freedom, and a better world, and imaginings of what future struggles may look like.
Imprisoned by the US government for expropriating funds from banks in support of the Zapatista Army of National Liberation (EZLN), Oso Blanco continues to use his art to fulfill his mission. At Oso Blanco's request, all funds from sale of the book will help fund The Children's Art Project in support of the children in Chiapas.

Copies may also be purchased through our friends at Burning Books.
Price: $23.99
 **Copies will be available for purchase directly through the official support website soon! For now, to purchase a copy or to inquire about bulk orders, feel free to email his support crew at [email protected].