Friends at Radix Media in Brooklyn, NY have created an amazing poster with a piece of Eric King's poetry! It is a fundraiser and proceeds will go to Eric's support fund. You can order at the link below. with some details about the poster.  
Order at https://radixmedia.org/product/eric-king-support-letterpress-broadside/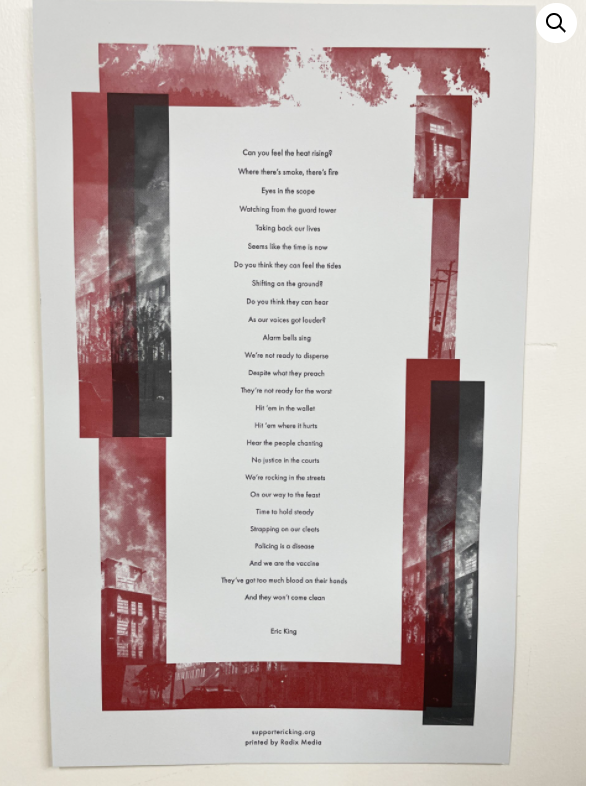 On August 09, 2014, a 28-year-old white Ferguson Police officer named Darren Wilson shot and murdered Michael Brown, a young 18-year-old unarmed Black man. Spurred by this event and the continued, relentless cases of police officers across America shooting at unarmed Black people, a wave of protests erupted all over the country, most notably in the city of Ferguson. Protestors held their hands in the air and cried "Don't Shoot," to protest the heavy militarization of American police and their use of excessive force in interactions with Black people.
A month later, angered by the inaction and police brutality during the protests, vegan poet and anarchist Eric King flung two incendiary devices into a Kansas City Congressperson's office, both of which failed to ignite. King was arrested and sentenced to ten years, a statutory minimum and maximum sentence. Despite encountering police harassment, targeting, and extreme isolation from loved ones while incarcerated, King continues to write and champion for racial and social justice.
To support Eric King, we are releasing a limited edition of 35 posters carrying one of his revolutionary poems. All profits generated from the sale of the poster will be sent to Eric's's support fund. You can support the campaign fighting for his release by visiting Supportericking.org.
The print is approximately 12.5″ x 20″ and was letterpress printed in multiple passes on our vintage Vandercook proofing press.