Join Philly ABC this 2022 Black Futures month to send letters of solidarity to one of the longest-held political prisoners of the Black Liberation struggle, Veronza Bowers. Veronza is a former Black Panther Party member framed for the murder of a U.S. Park Ranger on the word of two government informants, both of whom received reduced sentences for other crimes by the federal prosecutor's office. Because Veronza's case falls under "old law" guidelines, he was supposed to be granted mandatory parole after serving 30 years. That day was in 2004, but due to the intervention of a former aid of President Bush, he continues to be held unlawfully.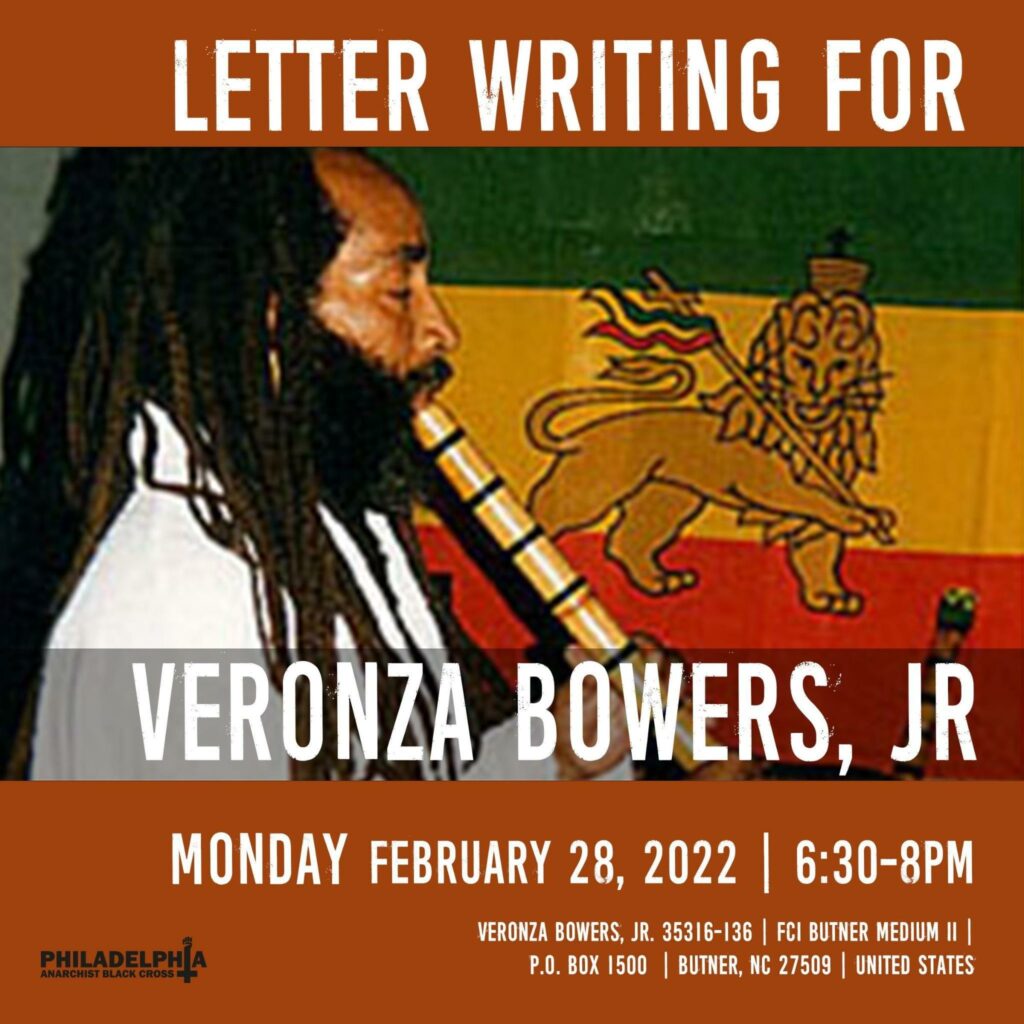 In Veronza's own words :
After 30 years of being denied release on parole, despite the fact that your conduct has been exemplary for over 20 years and you have long since met the criteria to be released on parole, finally your Mandatory Release date rolls around: April 7th, 2004. Everything is set, viz: your daughter, who was 5 years old when you were taken away to prison and is now 36, sent you a top-of-the-line fashion suit of clothes so that you would be properly dressed to 'step in the name of freedom with love.' She, along with 3 of your sisters fly in from across the country to be there at the prison gate to pick you up. …

You're sitting outside in the Sweat Lodge area with your two closes friends just enjoying each other's company in SILENCE. A loud announcement over the loud speaker ordering you to "report to your unit-team immediately" beak your peace. You know that something is not right. …

"You won't be leaving tomorrow."

You already that, but you didn't know why…so you breathe deeply…1 full breath, 2 full breaths – a strange silence fills the room, and since it's quite obvious that some reaction is expected of/from/by you, you just continue focusing upon the Breath. "Why?"

"Well, all we know is that the National Parole Commission called the institution and ordered that you not be released tomorrow. …

Just like that! A simple phone call from a National Commissioner in Chevy Chase, Maryland, and all of the plans for you to be "Steppin' in the Name of Freedom, with Love" are cancelled, wiped out, voided until further notice.
Now almost 20 years have passed since his mandatory release date – we have to show Veronza some love ❤️!
Veronza Bowers, Jr. #35316-136
FCI Butner Medium II
P.O. Box 1500
Butner, NC 27509
If you can, please also drop a 'happy birthday' note in the mail to prisoners with birthdays in March: Joy Powell (the 5th), Andy Mickel (the 13th), and Ruchell Magee (the 17th).