Donate to Running down the Walls 2020 at
https://fundrazr.com/LA-ABCFrunningdownthewalls2020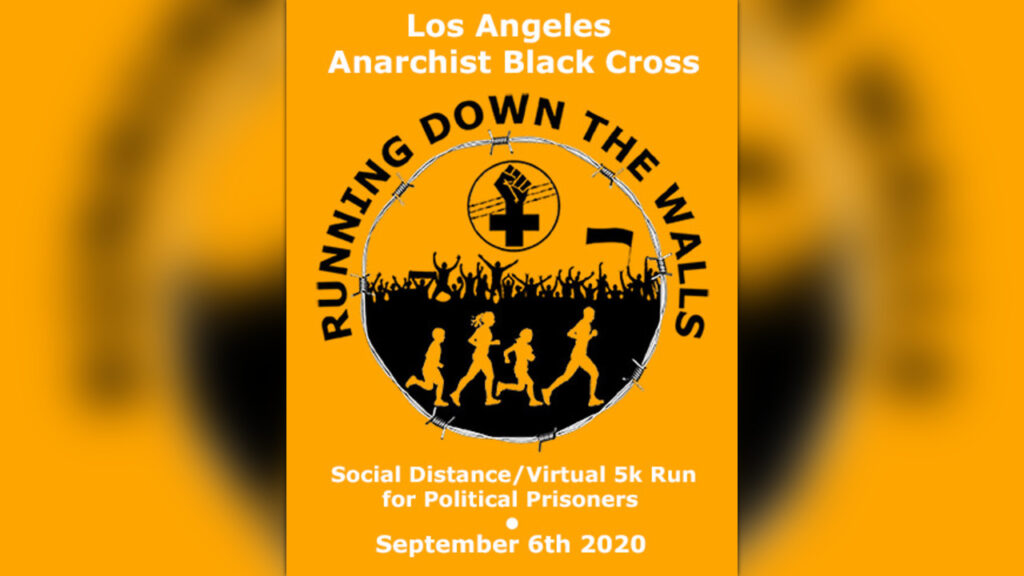 This year's Running Down the Walls is a 5K run/walk/bike/roll/exercise to raise awareness and funds for political prisoners incarcerated in North America. With the devastation and uncertainty that came with Covid-19 (especially among already oppressed and imprisoned communities) Los Angeles Anarchist Black Cross has decided to host this year's RDTW (2020) decentralized and online. While we host this run online, we hope people participate in exercising however they can, while acknowledging their solidarity and connection with Political Prisoners inside the walls who historically participate in Running Down the Walls.
By being online we hope to bring wider access to people who could not make it out to select events before. No matter where you are, we hope you will be joining us this year in making Running Down the Walls 2020 a success and supporting our Political Prisoners inside, many who have been struggling even more in this moment.
Join us for Running Down the Walls – September 6th from 11am – 1pm PST we will be hosting a Twitter Storm (@La_ABCF). Please join us and participate in both the exercising portion and in Tweeting out support for Political Prisoners. Feel free to make noise all day for those imprisoned.
All funds raised will go to the ABCF Warchest, The Warchest program was created in November of 1994. Its purpose is to send monthly financial support to Political Prisoners and Prisoners of War (PP/POWs) who have been receiving insufficient, little, or no financial support during their imprisonment. Since its inception, the Warchest has raised over $120,000 with all the money going directly to those behind the prison walls.
Donate to Running down the Walls 2020 at
https://fundrazr.com/LA-ABCFrunningdownthewalls2020