From Environmentalist to "Domestic Terrorist" with former Earth Liberation member Daniel McGowan (G&R 150)

https://podcasts.apple.com/us/podcast/from-environmentalist-to-domestic-terrorist-with/id1501708978?i=1000555556457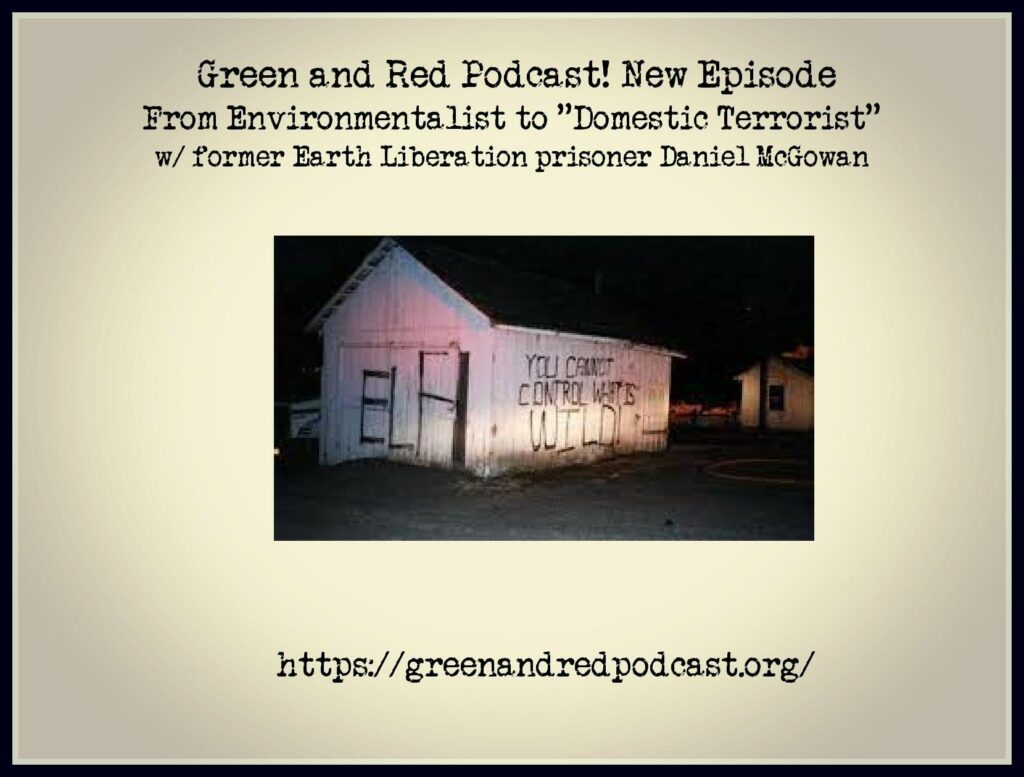 From Green and Red:
In the past ten years, we've also seen state repression of movements coming out of Occupy Wall Street, the Ferguson uprising, Standing Rock, Line 3 and various anti-Trump movements. Green and Red has had numerous episodes on radical movements and state repression of political movements from antifascists in Portland and Austin to water protectors at Line 3 to DAPL saboteur Jessica Reznicek.
But, before that, we had the era known as the "Green Scare," where radical environmental and animal rights activists were targeted by the "state" (corporations, politicians, law enforcement) for its anti-capitalist politics and escalating tactics that included sabotage, animal liberation, property destruction and arson. The FBI called their operation to stop these radical movements "Operation Backfire." After 911, they labeled people taking action "domestic terrorists." Congress passed corporate lobbyist written legislation, such as the Animal Enterprise Terror Act and the Patriot Act, to stop them.
In our latest episode, we talk with Daniel McGowan (@thetinyraccoon), an anarchist organizer, Earth Liberation Front (ELF) member and partisan during the Green Scare era. He was part of two ELF actions in 2001. After another ELF member turned informant, he was arrested by the FBI and charged with arson, property destruction and conspiracy. In June, 2007, McGowan was sentenced to seven years in federal prison and given a "terror enhancement" for his actions. Most of his time in prison was spent in a secret prison unit called a Communication Management Unit.
Daniel tells us about his journey as a radical environmentalist, actions with the ELF, time in federal prison and, now, supporter of political prisoners.
Daniel McGowan is a former political prisoner and former member of the Earth Liberation Front (ELF). He spent 48 months in experimental Communication Management Units operated by the federal Bureau of Prisons during his seven year sentence. Daniel has been involved with political prisoner support and prison struggles for most of his activist life. He is currently a member of the Certain Days collective, NYC Books Through Bars and the Anarchist Black Cross Federation (ABCF). Daniel works on the campaign to defend and free anarchist political prisoner Eric King and is an advisory board member of the Civil Liberties Defense Center (CLDC) & the Coalition for Civil Freedoms. Daniel is a lifelong New Yorker and grew up in Far Rockaway, Queens, NYC. He works professionally as a paralegal and consults with people preparing to go to prison and their family & friends in setting up defense committees.
Outro// Catharsis "Arsonist's Prayer"
Daniel's Linktree: https://linktr.ee/tinyraccoon
G&R: Dakota Access Pipeline Saboteur Jessica Reznicek Sentenced to Prison
G&R: The Story of SHAC
Follow Green and Red//
https://linktr.ee/greenandredpodcast
Check out our new website: https://greenandredpodcast.org/
Join our Discord Party: https://bit.ly/36hqx7X
Donate to Green and Red Podcast//
Become a recurring donor at  https://www.patreon.com/greenredpodcast
Or make a one time donation here: https://bit.ly/DonateGandR