The Drunken Wobblies have released a new song, the sales of which are benefiting the ABCF just in time for their 2014 tour. The song titled "No Peace" was released on Aug 10 for Prisoner's Justice Day. On August 10th, 1974, Eddie Nalon bled to death in his cell at Millhaven Prison in Ontario. Every August 10th since then, Prisoner Justice Day has been used as a way to remember every prisoner who has been treated as less than human by the system. All proceeds from the song will be split between the Anarchist Black Cross, Prison Justice Day, and London's Prisoners Justice Film Festival.
Upcoming Tour Dates (for a complete list, see their Facebook):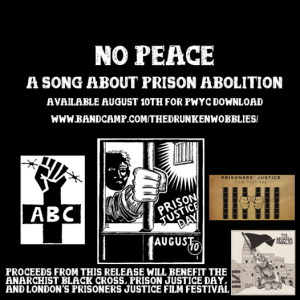 Aug 23 – Pittsburgh – Pitt Punk Picnic
Aug 27 – Richmond – Wingnut Collective
Aug 29 – Philadelphia – A-Space
Aug 30 – Providence – ?
Aug 31 – Boston – Encentro 5
Sept 5 – Toronto – The Arcade
Sept 6 – London – Satans Cove

Please support artists who support political prisoners!

The Drunken Wobblies – https://www.facebook.com/TheDrunkenWobblies
No Peace – https://thedrunkenwobblies.bandcamp.com/album/no-peace-all-proceeds-donated-to-abc-pjd-and-pjff
Prisoners Justice Day – http://www.prisonjustice.ca/index.html
Prisoners Justice Film Festival – https://www.facebook.com/PJFFLondon