By Lauren Regan|July 26th, 2021|CLDC.org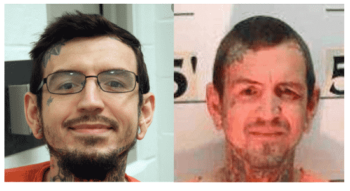 Today I was locked in a small windowless room with asbestos walls crumbling onto a filthy floor for over seven hours. I was allowed to leave only once to use the restroom. I was not permitted to have water, food, or access to my cellphone to let anyone know whether or not I was OK.
A small metal shelf, about the size of a laptop, is mounted on one of the walls of the room. Above the shelf is a window of plexiglass that looks into an equal sized cement room in which our client, Eric King, sits looking back at me. I am in the attorney visiting room of the segregated housing unit (SHU) at the Englewood Federal Correctional Institution outside of Denver, Colorado.
Eric is an antiracist, antifascist anarchist serving a 10-year federal sentence for an act of protest over the murder of Michael Brown, an 18-year-old black man who was killed by police in Ferguson, Missouri in 2014. He is scheduled to be released in 2023. In a federal prison system filled with racial segregation, white supremacist gangs, and brutal violence, Eric's time locked up has been the stuff of activists' nightmares. Some prison guards and "white power" prisoners work together to exact vengeance on prisoners like him — "race traitors," LGBTQIA individuals, and smaller-framed people who are visibly proud of standing against fascism, as evidenced by their tattoos.
Eric has been left in a cage by guards to be beaten or killed by the leader of an infamous white supremacist gang; framed; seriously beaten at least a dozen times; had his head split open by a guard and rendered unconscious; and was taken into a mop closet and punched multiple times in the face by a Bureau of Prisons Lieutenant who screamed "terrorists killed my daughter" before throwing the first punch. Eric was then strapped to a metal bed in four-point restraints while multiple guards beat him, and a captain used a shield to smother him while hissing "I hope you get raped or beaten up at your next institution." And, sure enough, he did get beaten…while guards watched. Eric currently faces a federal criminal assault prosecution for allegedly punching the BOP Lieutenant in self defense. He has been waiting for a trial on the charge for almost three years now. If he is convicted, this hell may be prolonged for several more years.
About a year ago CLDC took on Eric's criminal case. After reading through the evidence and viewing the security videos — which appear to be edited to remove several periods of torture — we knew we had to try to help keep Eric alive until he could come home to his wife and daughters. Two months ago we filed a federal civil rights case on his behalf. You can read more about the trauma and abuse Eric has endured, and our suit on his behalf, here.
In addition to Eric's criminal case, our small legal team is also handling several other major #BLM related cases, including several federal prosecutions. Those clients are largely young BIPOC activists also rooted in the antiracist/antifascist movement. In the event that any of them are forced to do federal prison time, we must attempt to make that place survivable by at least shedding light on the secretive system of racism and abuse that has been running rampant within the BOP for a long time. It is necessary to call for the abolition of the prison industrial complex and the carceral state in order to permanently stop these egregious harms. It is also necessary to try to keep our comrades safer as they attempt to survive alone within the cement walls of those jails and prisons where some prison employees act with impunity.
After a long day of listening to Eric's terrifying, tragic saga of imprisonment, I will return again tomorrow for another eight hours in the tiny, foul attorney cell. Of course, I am grateful that, at the end of the day, I can leave, but I am intensely worried for our client and friend who fears for his life almost every minute of every day.
If you support our legal defense of antiracist, antifascist activists and political prisoners, please consider becoming a monthly CLDC donor. Your contribution will help defray the costs we incur in taking on these pro bono cases. Thanks to generous donations, our activist clients are never turned away for lack of ability to pay for litigation expenses.